I wasn't chosen. I didn't even get any requests. Here's why I'm glad I went for it, what I learned, what I'm doing differently this year, and why I'm excited to try again.
Pitch Wars season is almost upon us! With its blog hops, pitch parties, Twitter teases, and nail-biting selection period, the eight-year-running author mentoring program feels like an upcoming festival-meets-marathon for this aspiring writer.
Last year, I had only a vague idea of what Pitch Wars entailed. But I was noodling around Twitter, following some #WritingCommunity folks here and there, and wistfully wishing I was a Real Writer as I slogged through a third revision of a project I couldn't decide whether I loved or hated.
I can't remember what exactly made me decide to submit to the program. Honestly, I was terrified by the idea. Despite my lofty aspirations, my National Novel Writing Month "wins," and my several manuscripts gathering dust in the proverbial virtual drawer, I had never had the moxy to submit my original work to anyone. The most I had done was shop the first few chapters of my Pitchwars project around on the critique site Scribophile, where I found a few like-minded writers but not the consistent support I needed to raise my writing to the next level.
My goal for myself last year was to take my writing seriously. Pitch Wars was my first stab at doing just that and my kick in the butt to finish the draft I was working on at the time.
What is Pitch Wars?
According to the Pitch Wars website:
Pitch Wars is a mentoring program where published/agented authors, editors, or industry interns choose one writer each, read their entire manuscript, and offer suggestions on how to make the manuscript shine for an agent showcase. The mentor also helps edit their mentee's pitch for the contest and their query letter for submitting to agents.
Pitch Wars is also a fantastic opportunity to network with other aspiring writers, improve your craft, learn from your peers, connect with agents and published authors on social media, and practice skills like preparing pages for submission, drafting queries, and writing synopses.
The not-so-secret truth about Pitch Wars is that you don't have to be selected by a mentor to do any of that.
Here's a funny, honest, eye-opening Twitter thread on the pitfalls–and joys–of Pitch Wars from a Pitch Wars graduate. (Also, follow @themoosef, she's awesome.)
My Pitch Wars 2019 experience
I started thinking about participating in Pitch Wars round about July of last year. My day job was slow and I needed something to focus on other than, well…everything else going on in the world. I don't function well when I'm not absorbed in a project or working toward a goal. My therapist says I need to work on feeling valuable when I'm not accomplishing something, but I'm way too busy for that shit. (Just kidding, she's right and great and I probably wouldn't be writing in this blog if it wasn't for her.)
So I threw myself into my revisions and churned out a serviceable, complete, 94k word draft by the end of August. In September, I pored over the mentor lists and by some miracle found four who wanted to read contemporary/urban fantasy. I followed them on Twitter and tried to interact a little.
But for the most part, I hung back. I was getting in my own way. I didn't feel like a "real writer" (whatever the heck that is) so I didn't participate in the fun social media activities or post on the forums much.
I also started waffling on submitting and didn't complete my query and synopsis until…the day our submissions were due. Then, on a rush of adrenaline, I completed everything, roped my partner in to read my synopsis, and sent my submission package off while thinking about what was happening as little as possible.
Which brings me to my first lesson!
Lesson 1: DO prep your submission package early!
DON'T wait until the last minute like I did last year.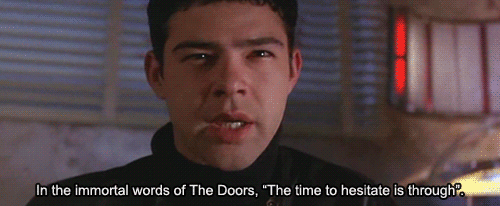 Why not? Because it's too damn stressful. And I say that as a confirmed procrastinator.
Because a query is the hardest 250 words you'll ever shed blood, sweat, and tears over.
Because writing a synopsis is a huge pain in the keister, and writing a good one takes time and multiple read-throughs.
But most importantly, because it means you miss out on opportunities to get critiques and polish your materials before the submission window opens. The Pitch Wars team holds an official raffle that offers critiques from the mentors to a small number of participants, but there are other small, unofficial critique events going on as people pitch in their skills to help out their peers. Here's one happening this week:
But seriously, the Pitch Wars forums are a great resource for getting informal feedback on your submission materials. The mentors are in there giving away free advice! You just have to be brave enough to ask for it.
Speaking of which…
Lesson 2: DO put yourself out there.
DON'T be shy. Don't sell yourself short. Get up in those Twitter threads and forum posts. Talk about your writing goals on your social media. Talk to the mentors. Ask questions. Play the social media games. Make aesthetics for your Pitch Wars book and tweet them out proudly.
In other words, don't be last year's me.
Why? Because participating fully in all of these Pitch Wars-adjacent activities is how you access the biggest benefit that Pitch Wars has to offer: a big, loud, funny, smart, kind community of writers struggling, celebrating, angsting, and cheering each other on.
And sure, your book isn't perfect. But neither is anyone else's. If they were already novel-writing virtuosos, they wouldn't be looking for a mentor.
Whether or not your project is selected, you deserve to show up for yourself, give it your all, and ignore any voices of self-doubt trying to tell you that you're not ready.
Lesson 3: DO believe in your project.
Remember how I said that I couldn't decide whether to love or hate the project I submitted to Pitch Wars last year? By the time I got through the long revision, the query, and the synopsis to finally hit the submit button, I definitely hated it. I was weary to the bone of it. I was sick of every single character's shit.
But not enough to avoid the sense of devastation when I didn't get a single request.
Like I said above, I'm glad I participated, but in a way I'm also glad that I wasn't selected. Because I don't think I could have slogged through another two months with that manuscript at that time.
A few months after the event, I went back to the manuscript and read it again. And I remembered why I'd written it in the first place.
Through the harrowing process of putting your work out there to be judged by other people, don't forget why you wrote your book. You had a reason. Otherwise you wouldn't have spent all that time on it.
And, you know, don't submit a project that you are So Done With. It's a lot of work for something you hate, even if you tell yourself it's good practice, like I did. Don't get me wrong. It IS good practice. But for your own sweet sake, practice on a song you love.
I'm pleased to say I'm in love with my 2020 Pitch Wars project. She's not perfect, she's still working toward her full potential, but she's got a lot going for her. I'm excited for people to get to know her. And whether or not she gets a mentor this year, I'm going to do my personal best to get her an agent.
Is this a metaphor? Sure it is. But it's also true.
Lesson 4: DON'T let rejection get you down.
After I refreshed my email inbox desperately and obsessively for the full month of the selection period, only to never see a single request, I stopped writing for awhile. I got a wee bit depressed. I told myself I didn't have to be a writer. The slope I still needed to climb to achieve my goals seemed way too steep.
In short, I was taking the whole experience way too hard and way too personally.
The fact is that your odds of being selected for mentoring through Pitch Wars is pretty small. Thousands of people submit. No matter how good your manuscript may be, your chosen mentors will see a lot of good submissions. They will make their selections based on subjective factors that you more likely than not have no control over. A lot of mentors make their final decisions on whether or not they have an idea for how to help you improve your novel, which you absolutely do not control.
That's normal, good, and right. All of writing and publishing is essentially subjective, provided you have a good handle on the basics. A lot of it is getting the right words in front of the right eyes at the right time. Pitch Wars is no different. And like you, your mentor is going to spend a lot of time with your project if they select it, so it's best for them and you if they really love it.
(I'm writing this to remind myself, too!)
Rejection sucks. But just like the querying and the revising and the synopsisizing, it's good practice and a necessary skill to develop.
Remember, Pitch Wars isn't the only way to get published. In fact, many mentees do not get book deals after the agent showcase. There are no guarantees.
After all, the real prize is the friends and professional connections you'll make along the Pitch Wars journey.
It's ok to feel sad and disappointed and envious if you don't get the brass ring. It's ok to take a break and process how much you actually wanted that ring. Just don't stop jumping for it. Okay?
Okay.
Lesson 5: DO learn from your peers' journeys.
So say you don't get the brass ring. You, like me, don't get any requests for your gangly, pimply, rude teenager of a project, with which you're exasperated but deep down still love with that fierce mama bear love. Or you got a request but someone else's manuscript was ultimately chosen.
Don't drop off the face of the writing planet as soon as the mentor selections get announced. Don't swallow the hemlock of envy and unfollow all those cool people you just followed the month before. Check out the mentees your chosen mentors selected. Follow their revision journeys. Learn from their process. Cheer for them. Follow their blogs. Read their books, if you get the chance. Read their mentors' books, if you haven't already. Read all the agent showcase entries.
Unlike the other mistakes I've detailed here, I didn't make this one. Even though I didn't throw myself into the deep end of the community I'd found during Pitch Wars, I had made enough connections and found enough cool folks that when I was ready to finally take those steps, I had a place to go. I'm the kind of person who does want to stand on the sidelines to watch and learn when I enter a new social realm, even virtually, so it took me some time to get there.
But the community is there. It's waiting for you to be ready. No one's going to snub you because you didn't get a mentor.
So what are you waiting for?
Looking ahead to Pitch Wars 2020
With all that said, including all my mistakes and submitting a project I didn't love, I don't regret my experience in Pitch Wars 2019. I needed those mistakes. I needed a practice year. I needed it so I could be better prepared for this year's Pitch Wars–this time with a project I do love, one for which I'm ready to go to bat.
I'm not just looking forward to the event this year–I'm pumped for it.
I have my query letter ready. I have my synopsis, though it needs at least one more pass. I'm putting finishing touches on the second revision of my project this month.
Which is all to say that I'm about to go ahead and contradict EVERY DAMN THING I JUST SAID ABOVE.
If you're thinking about submitting to Pitch Wars, you should do it. Even if you do everything at the last minute. Even if you ignore every last piece of advice I just gave.
Because the biggest Pitch Wars lesson I have to share is:
Lesson 6: JUST DO IT
I hope my experience is helpful or at least made you smile. Share your Pitch Wars worries, hopes, thoughts, questions, and experiences in the comments below!